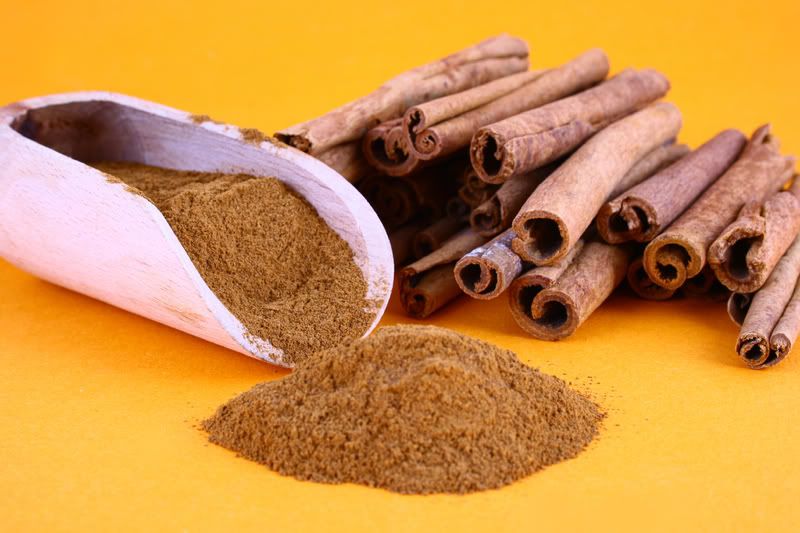 Cinnamon is another common kitchen spice that offers health benefits with healing powers, as well as adds wonderful flavor to savory and sweet dishes. It is also kid friendly and smells fantastic as home incense.
Studies have shown the following benefits from the consumption of cinnamon.
1/2 teaspoon of cinnamon per day can lower LDL cholesterol.

Have a regulatory effect on blood sugar

Ability to stop medication-resistant yeast infections.

Copenhagen University patients given 1/2 teaspoon of cinnamon powder combined with 1 tbls of honey every morning before breakfast had significant relief in arthritis pain after one week and could walk without pain within one month.

Smelling cinnamon boosts cognitive function and memory.

Researchers at Kansas State University found that cinnamon fights the E-coli bacteria in unpasteurized juices.
Facts
Cinnamon has been used for years in traditional Chinese medicine for colds, nausea, diarrhea, and painful menstrual cramps. They also believed it to improve energy, vitality and circulation.
Cinnamon has an anti-clotting effect on the blood.
Cinnamon is a natural food preservative.
Cinnamon is a great source of manganese, fiber, iron, and calcium.
Other facts about cinnamon
True cinnamon is called Ceylon cinnamon and is native to Sri Lanka.

Cassia is a relative spice and sometimes sold as cinnamon but it is not "true cinnamon. Most powdered cinnamon sold in the United States is cassia.

Two teaspoons of cinnamon has about 12 calories.

In Ancient Egypt, cinnamon was used in the embalming process.

In the Middle Ages, cinnamon was only affordable to the elite of society. A person's social rank was determined by the number of spices they could afford.
Use cinnamon to spice up your health, taste buds, and atmosphere in your home through aromatherapy.
Related Links
Cinnamon for a fat burning skinny food
Cinnamon and Diabetes